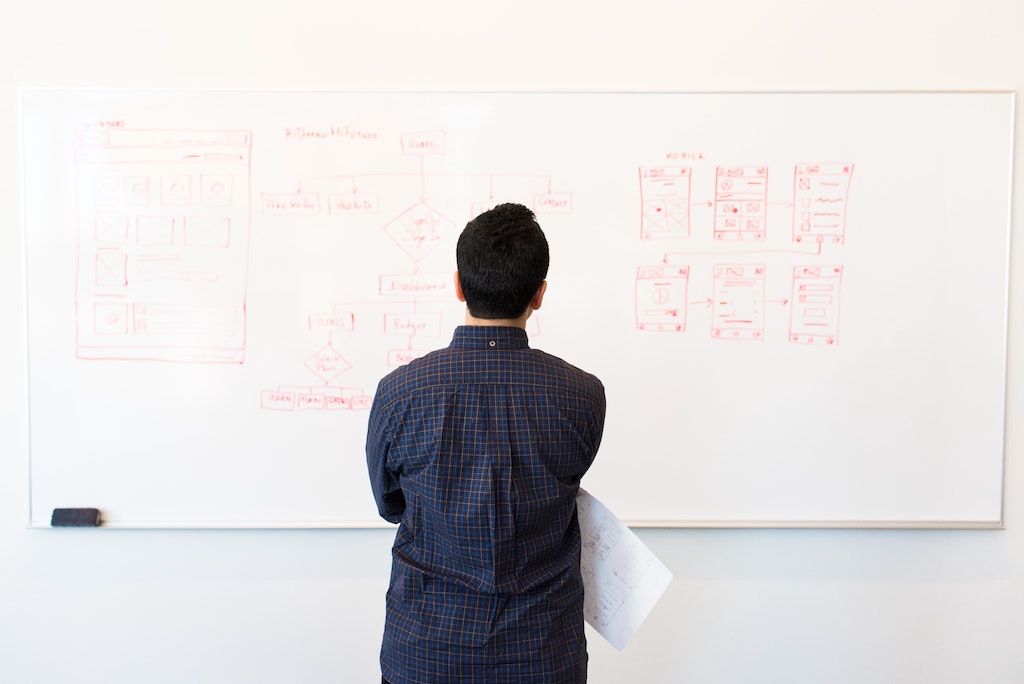 Every startup needs or MUST HAVE whiteboards, it's just how it goes. Whiteboards offer a great way to draw, post reminders, and explain things. I know at college I was always using whiteboards to help explain building websites and/or tech stuff. Installing a DIY whiteboard is a simple project that you could get done TODAY and/or any weekend. I found whiteboards very useful and wanted to setup some whiteboards on my walls in my apartment here in Arizona.
Well talking to a couple of people at the rails as well as the ruby meetup about whiteboards gave me some great tips and tricks that I wanted to blog about.
Most whiteboard that are 2ft by 2ft or so, cost about $10 to $20. If you want a HUGE whiteboard or wall to wall whiteboards it can get EXPENSIVE QUICKLY. Luckily there a simple solution, the fine people at Lowe's sell this 1/8th White Tileboard for about $12.78 with tax for a 8ft by 4ft. (they can even cut to down to different sizes at the store!) This tileboard acts the same way as a whiteboard and is wicked cheap!
Being the entrepreneur that I am I wanted a whiteboard in my home office (my little startup). I used the OOK 30lb frame hangers for this project as well as for hanging all my frames on the wall. These are simply amazing, cheap, small, easy to install, and hardly noticable on a wall after removal. These work great on drywall and just need to get nailed in at a angle. I also use some hooks to hold my wine rack in the kitchen.
So here is the parts list for setting up a whiteboard in a home or office and not have to worry about it ripping out your wall or leaving huge holes.
1 30lb OOK Picture Hanging Hardware about $2 at Michaels or some hardware shop.
1 8ft x 4ft 1/8th White Tileboard about $12
1 drill or sharp knife
1 hammer (or rubber mallet)
a friend and possible a leveler
Okay, so some notes and tips, as you can see from the picture below, 4ft x 4ft is LARGE and it MIGHT not fit into your Del Sol, so be sure to either measure or plan a bit before picking up of the tileboard. I made 2 trips, 1 to Lowes and had them cut the 8ft x 4ft tileboard (whiteboard) down to 2 4ft x 4ft pieces. I was able to bend the board to fit into my Prius and then just pulled it out when I got home.
(*NOTE: Sorry for the lack of quality in the pictures, I have horrible lighting in my garage and apartment, but I feel that they help get some points across.)
I took the 1/8th tileboard and drill 2 holes (you can prolly cut them, its only 1/8th thick) where the OOK hooks would go. I placed the holes about 4 inches from each end as well as about 1 inch from the top. Once the holes were large enough, I fit the OOK hangers into the tileboard.
I then got a friend to hold the board where I could hammer in the small nails and leveled the board before putting in each nail. Once the tileboard is mounted, be sure to grab some <a href="http://www.johnmurch.com/posts/diy-whiteboard-on-the-cheap/" ?attachment_id="134'" rel="attachment wp-att-134" title="DIY Whiteboard">
(*NOTE: I could not get a good picture of the whiteboard from how my room is setup, so although it looks like its at an angle is actually perfectly straight.)
Well I hope you are enjoying a nice whiteboard in your home or office and please comment about your setup or if you used other methods of hanging.